Divya Drishti 31 August 2019 written update: Divya and Drishti sacrifice their lives; Rakshit slips into coma
3 min read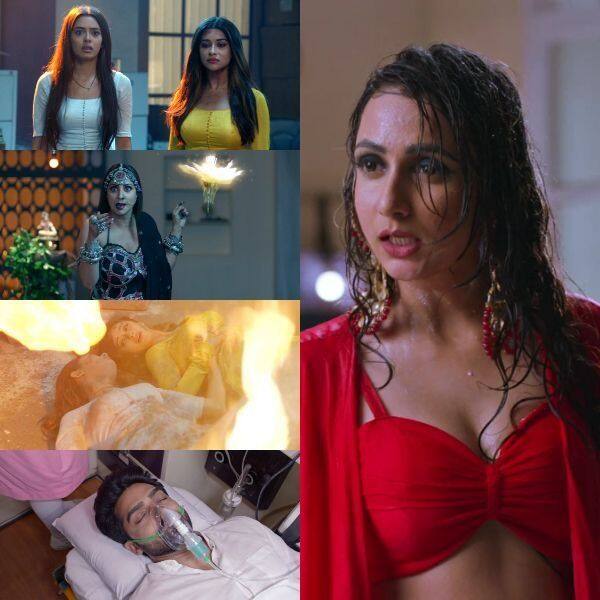 Divya Drishti 31 August 2019 written update:
Tonight's episode of Divya Drishti begins with Divya revealing to Rakshit that he has killed Shikhar. Divya is devastated whereas Rakshit is dumbfounded. He consoles her. Elsewhere, Drishti and Pishachini argue over the flower. Drishti tricks Sachini and hides.
Divya asks Rakshit to save the family while she decides to find Drishti's whereabouts. Rakshit insists on coming along but Divya makes him understand that his family needs help. Rakshit also makes her understand that everything she did was necessary and just.
Divya finds Drishti caged by Pisachini. Divya is indifferent to Pisachini's threats. She instigates her to press the button. She reveals in front of them that she has killed Shikhar and that Rakshit and Romi have vacated the building already. In a fight, Pisachini steals the flower and evokes the mahashakti. Drishti gets a vision where she sees that the Shergill office building collapses in a bomb blast. Drishti tries to get Divya out of the building by being rude to her, but the latter sees through it. Divya and Drishti bring about the bomb blast and Pisachini loses all the Ratna's. While seeing the doom in front of their eyes Drishti reminiscences the happy moments with Rakshit and Divya. The building collapses. Rakshit who has come to save Divya Drishti too collapses.
In Devdi, Kaal Devta berates Pisachini's folly. She calms him down by saying that since both, Divya Drishti, are dead she can easily get the Ratnas back. She reveals to him her plan as such after 13 days she will perform the last rites of the sister and snatch the three ratnas from them.
Also Read
Divya Drishti August 25 2019 written update of full episode: Divya kills Daitya Vanaar/Shikhar while Rakshit saves everyone
In Shergill house, everyone is devastated. Ashlesha is grieving over Shikhar's death while Romi feels guilty of not being able to save Divya and Drishti. They all grieve over Divya, Drishti and Rakshit's death. Sachini warns them that with the three of them dead, she will rule the house.
13 days later
Sachini is preparing lassi for the last rites. A centipede visits the house from hell. She introduces her as rengili. It's chaos in Shergill house. They are thirsty and waiting for the lassi. Sachini asks them to greet her nicely and the Shergills along with Romi fall to their knees and beg for mercy from Mallika (Sachini). They all drink the lassi.
Kaal Devta visits Sachini in a dilapidated building. Instead, Rengili comes she says Sachini will be here anytime. In Shergill house, Sachini troubles Ash. She troubles Ojaswini, Mahima, Rashi, Twinkle and Simran. Sachini is reminded that it's 13th day today. She visits the dilapidated building to perform the last rites. Mahima gets a phone call from the hospital and she learns that Rakshit has slipped into a coma. With that, the episode ends.
Preview: Divya and Drishti are very much alive. They plan to bring about Sachini's end.